Whisper in the Woods, Laika Wallace's first novel, is now available to read FOR FREE! Come back soon for Lured to the Lake, the second installment in the series!
Here you can download PDF versions of Laika Wallace's novels, novellas, and short story collections FOR FREE (tips appreciated on his friend's PayPal or directly through the tip function on the site). More stories are being written and uploaded all the time, so check back regularly for more, and follow this webpage at this link to be notified of new content and changes.
Below, stories will be listed with their title, viewing link, cover, summary, and trigger warnings. Short story collections will have a summary for the theme of the entire collection and trigger warnings for individual stories. While the trigger warnings should be appropriately minded, they do tend to make the stories sound darker and more gruesome than they are. Pairing them with the summary is the best way to get the vibe of the story; if something truly terrible happens, it will be emphasized there as well as more prominently in the trigger warnings. Additionally, these stories often include themes of abuse, mental health struggles, and dealing with bigotry as a means of catharsis, healing, and to make strong villains. Laika's works do not condone, glorify, or romanticize abuse or bigotry.
The following books are works of fiction. Names, characters, places, and incidents are the product of the author's imagination or are used fictitiously. Any resemblance to actual events, locales, or persons, living or dead, is coincidental.
Please do not repost hir work. If you would like to share something sie's posted here or on hir tumblr blog, please only share a link to the post/page, not a screenshot or otherwise copied image or text.
Town Ghosts is available now to read at this link.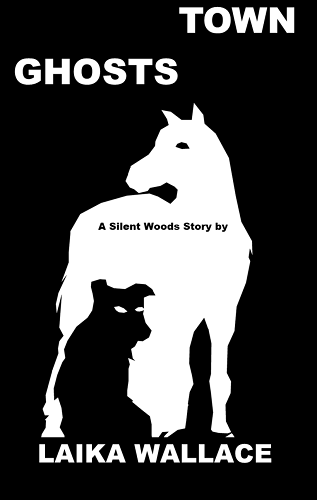 Cover by Fionntan M.M.
Two towns, two halves of one story, two ghosts, two halves of one life...
When Marnie moved with her parents from her home in busy downtown Ottawa to tiny Pryeville, a town barely on the map, she didn't have high hopes for any part of it. She'd left behind all her friends in elementary school, just to start middle school in a school so small both grades were taught in the same room. But meeting Sophia changed everything, sending her life spiraling along to the beat of the ethereal hooves that seemed to follow her...
For Edgar, too, life seemed like it couldn't get worse. Stuck with his cruel, uncaring father, all he wanted to do was build himself a computer and maybe figure out what his new friend Donald really made him feel. But with this new girl living in the town over from him, where he lived in Sowridge, spells trouble of a different kind, a kind he comes face to face with himself one night...
It is suddenly up to four middle schoolers to solve the mystery of the two towns and their ghosts, whatever it takes, no matter how much their lives will change in the process...
Trigger warnings for this story include: depicted homophobia, depicted child abuse, eating disorder triggering content, illness, and off screen animal death.
Whisper in the Woods is available now to read at this link.
Cover by bijillion.tumblr.com
A boy who thinks he's the only strange thing in the world, and a girl who knows that she isn't…
The first installment in the Shimmering Lake Summer camp series, Whisper in the Woods follows Ronnie and Morgan, two teenagers with turbulent home lives, as they attend the first session of a summer camp focused on helping trouble youth connect to each other, themselves, and the world around them.
Ronnie has just been through a traumatizing event that he can't understand and is being left in the dark about by his own mother, all while struggling to piece together why he's been raised to believe he and his mother are the only vampires in the world.
Like most things in Morgan's life, going to camp was sprung on her without her consent, but it gets her away from her painful home life and offers a glimpse into the world of Silent Woods, where she, a werewolf, might find more belonging than the suburbs of Ottawa.
But there's more to the camp than what anyone is telling them, and a long standing is conflict bubbling up in the lake…
Trigger warnings for this story include: abusive parents (verbal), parent death, physical assault and flashbacks, mental health struggles, animal death on screen, transphobia.
Laika Wallace's works have also appeared in:
Zines:
X/Y: A Junk Drawer of Trans Voices
Publications:
First Peoples Shared Stories from Flame Tree Publishing
Check out what he's up to on hir NaNoWriMo site!
Find his poetry on his Tumblr blog: Laikacore.tumblr.com